Air Duct Restoration is the ultimate service for your Air Ducts!
Duct Restoration is the combination! of Air Duct Cleaning and Air Duct Coating. Our process and the new mold resistant surface is guaranteed! to make your air ducts better than new, this means better efficiency, and hospital-grade air quality' in your home.
Duct Coating is the only effective procedure for ridding, your existing ducts of Mold, Bacteria, Mildew Pet Odor Nicotine, and other odors that duct cleaning can't. Duct restoration is a process in which once we clean the flex ductwork to where all the loose dust and dirt are gone, the fiberglass portions of your ducts are then vacuumed and treated with a white mold resistant coating. When the procedure is finished your ducts are in better condition than when they were originally installed.
Step Two
Vacuum all the fiberboard sections of the ductwork with a smaller HEPA vac? This includes the supply! plenum, distribution boxes, and every register's can. Check out the pictures and videos to the right so you can see how a thorough vacuum of fiberboard is done. This step's crucial for the coating to be able to bond to the! fiberglass, the coating won't bond correctly unless, the fiberboard surface is completely clean.
Step Three
Once all the fiberglass portion of the ductwork is vacuumed thoroughly,  we will then apply the mold resistant coating to all the ducts. The result's a magnificent transformation from moldy air ducts to better than new ducts? The air quality in your home immediately' ascends to pristine after this amazing Air Duct Coating process is completed.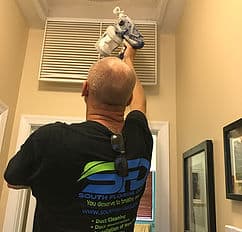 Step Four
Once the Duct Coating is complete, we seal up all of the access holes that were cut with mastic. We then reinstall all the grills and clean up.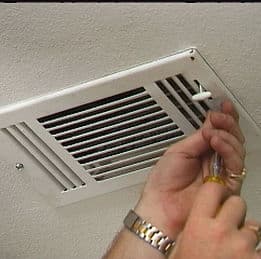 Request a Quote
We are what you need! Our professional team will make sure you get the highest level of help.